2 min to read
Microsoft 365 profile card customization using Microsoft Graph API
Finally Microsoft comes with solution to customize the people profile card in Microsoft 365 using Microsoft Graph API. Using this solution, you can existing user properties from Azure AD and custom attributes to the profile card. The real beauty is that it involves zero code. So, your tenant administrator can customize the user profile card using Graph Explorer itself.
What is profile card customization?
Administrators can customize people's profile cards by adding Azure AD properties and custom attributes. Using this feature you can customize the profile card with important information such as Employee ID, Cost Centre, Division name, etc.. It is available in Beta endpoint of Microsoft Graph API.
What are the additional attributes can added in the profile card
Currently Microsoft support following set of attributes to add in the profile card
Existing Azure AD attributes

UserPrincipalName
Fax
StreetAddress
PostalCode
StateOrProvince
Alias

Custom attributes

customAttribute1
customAttribute2
customAttribute3
customAttribute4
customAttribute5
customAttribute6
customAttribute7
customAttribute8
customAttribute9
customAttribute10
customAttribute11
customAttribute12
customAttribute13
customAttribute14
customAttribute15
How to add the attribute in profile card using Microsoft Graph API
We are going to use profileCardProperties resource in Graph API to update the profile card. This requires Global administrator rights. Log in to Microsoft Graph explorer with Global administrator account and enable the following permissions
User.ReadWrite
User.ReadWrite.All
After enabling the above permissions, run the below query in the Graph Explorer. In this API, we need to change Tenant id with yours and we can get tenant Id from Azure AD console.
Note: You can add one profileCardProperty resource at a time. Takes up to 24 hours for the changes to show on profile card. So, to add multiple attributes to profile card you need to make one request for each attribute to add.
Adding Azure AD attributes

Adding Custom attributes
When we are adding the custom attribute in the profile card, we need to define the display name for custom attribute to show in the profile card.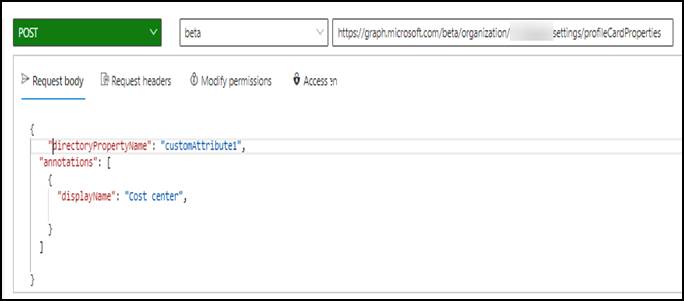 User Experience
Before modifying the profile card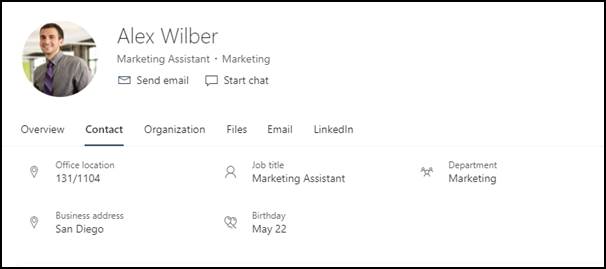 After modifying the profile card
The additional attributes are listed in the Contact section of the profile card.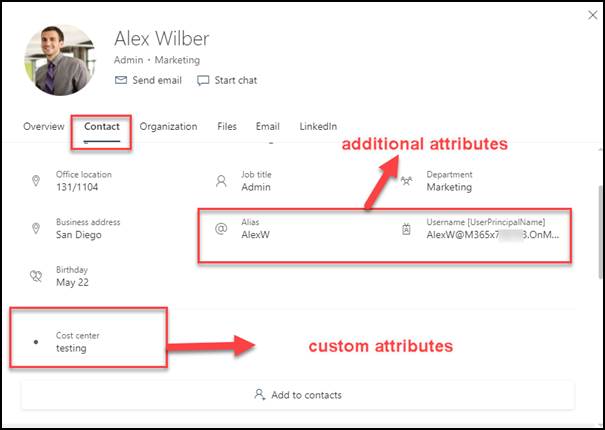 Additional Microsoft resources