4 min to read
Supervisory Review Policy in Office 365

Supervisory Review Policy is a new feature implemented in Security & Compliance admin center, which allows administrators to define policies that capture communications in your organization so they can be examined by internal or external reviewers. Reviewers can then classify these messages, make sure they're compliant with your organization's policies, and escalate questionable material if necessary. As of now, Supervisory Review is still in preview and only captures communications via email, but it is expected to expand in the future.
Supervisory Review includes the following components,
** Supervisory Review Policies - Defines which communications to be reviewed and who will review.
** Supervisory App for Reviewers - To perform supervisory review and classify the communication as

** Compliant, Non-Compliant, Questionable, Resolved
In this blog we deal with the following topics,
Permission Configuration
Supervisory Review Policy creation
Supervisory App installation for Supervisory Review
Supervisory Review of communications
Supervisory Review Report
1.Permission Configuration
Assign permissions to your required users/groups in your organization to create/control Supervisory Review policies and to review employee communications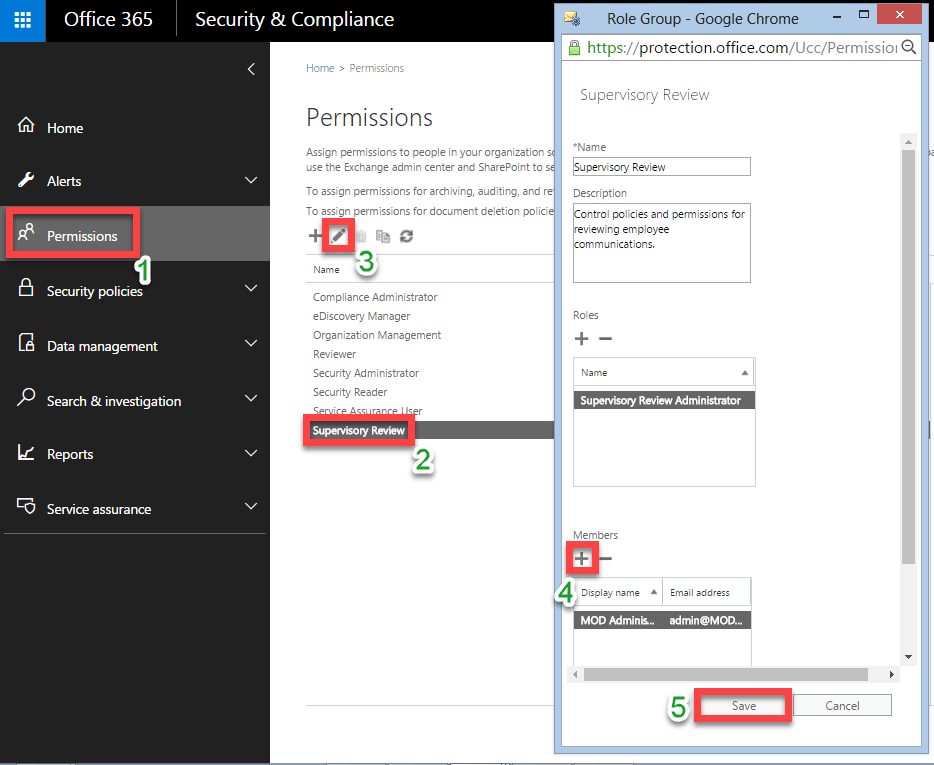 ​2. Supervisory Review Policy creation
The Supervisory Review Policy creation includes the following steps,
** Step1:- Name your policy

** Step2:- Choose users and groups whose communication need to be reviewed.
NOTE: If you have selected a distribution group for this policy and if you wish to exclude specific users or groups within the selected distribution group from Supervisory Review, then you can use the section
do you want to exclude anyone from the above list from this policy?to exempt them from supervision under this policy.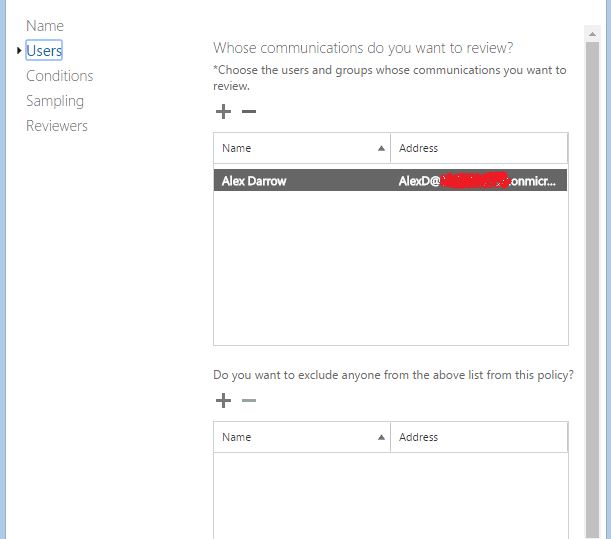 ** Step3:- Add your required conditions to capture the specific communication of the selected users and groups.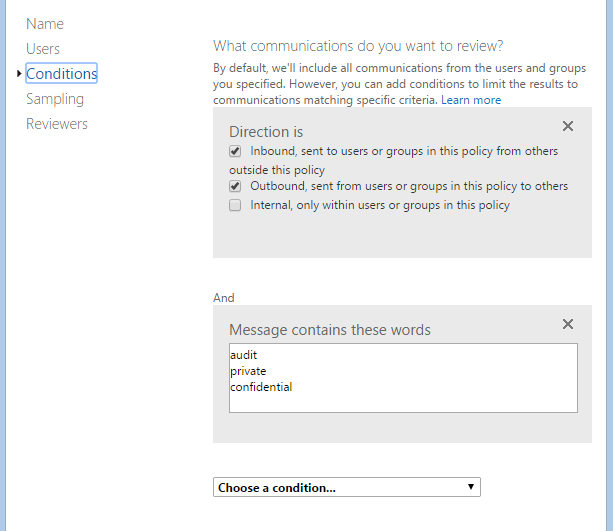 ** Step4:-Specify the percentage of content to be reviewed

** Step5:- Choose users and groups who will use Supervisory app to review and classify the communications based on this policy.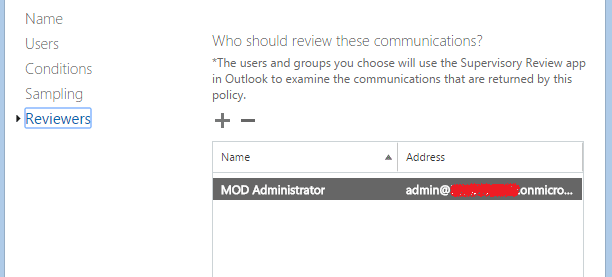 NOTE: Whenever you create a new Supervisory Review Policy in Security & Compliance admin center, which in turn creates corresponding transport rules in Exchange admin center. Moreover, transport rules created earlier may block the transport rules specific to your Supervisory Review Policy, therefore you can make sure proper working of your Supervisory Review Policy by changing the priority of corresponding transport rules as highlighted in the below screenshot.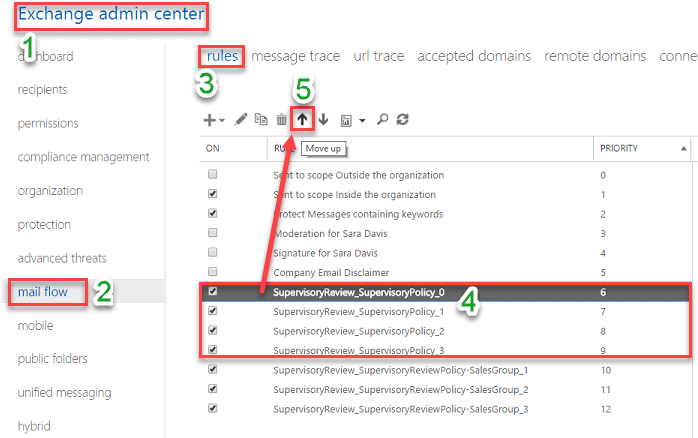 ​3. Supervisory App installation for Supervisory Review
To allow the reviewers to perform Supervisory Review, Microsoft has created an app that need to be installed in the Outlook web portal of reviewers. To install the app, run the following command in remote PowerShell by connecting to your Exchange Online tenant using Global administrator credentials.
PowerShell Command:
New-App -OrganizationApp -Url https://complianceclientsdf.blob.core.windows.net/srapp/manifest.xml -ProvidedTo
SpecificUsers -UserList "user1","user2","user3","user4","user5" -DefaultStateForUser Enabled

NOTE: In the above PowerShell command, you need to replace each user in the list with the Email address or Alias or Display name or Name for each reviewer (user or group).
Powershell Output:

​4. Supervisory Review of communications
Reviewers can login to their Outlook web portal and find/review communication and classify the communication as Compliant, Non-Compliant, Questionable, Resolved. Once you installed the Supervisory Review app, Outlook organizes communications in to folders that correspond to Supervisory Review policy under a main folder called Supervisory Review.
Here, as receiver when I login in to my Outlook web portal, I was able to find a communication available for review, as highlighted in the below screenshot. Since, the communication deals with confidential information, it needs to be escalated with concerned authorities, so I classify the item asQuestionable.
NOTE: The default state for communication before the review process is Not Reviewed.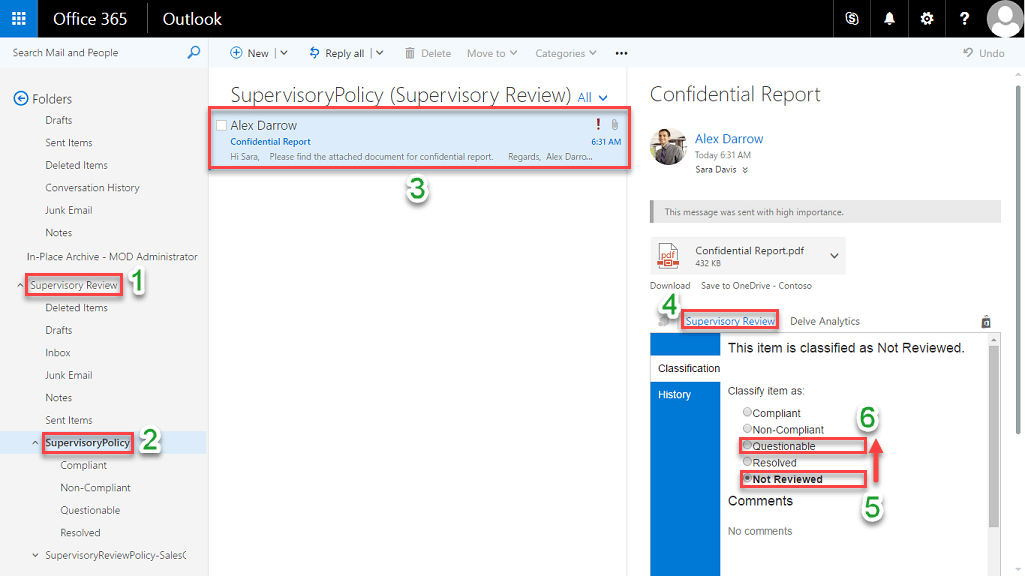 After classifying the item as Questionable, click Confirm to confirm the changes, which in turn moves the item (email) to corresponding sub-folder (Questionable) with in the policy.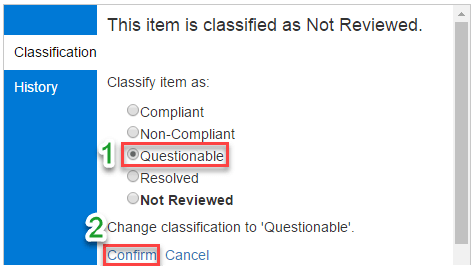 5.Supervisory review Report
To generate the Supervisory report, go to Security & Compliance admin center, expand Reports menu and select View Reports option, in the right-pane select Supervisory review report, then in the resulting window, view the report of your required policy as highlighted in the below screenshot.

Using the Supervisory review report, you can verify,
Whether Supervisory Review policies are working as you intended?
How many emails are being identified for review?
How many emails are outside of compliance?
How many emails are critical(questionable) and needs escalation?
How quickly emails identified for review are being processed?
Whether there is a backlog (Not Reviewed) in review process?
Using the above information from Supervisory review report, you can fine-tune your policies, and if required change(add/remove) the number of reviewers.